Client Project: Sales and Rebate Tracking System
Industry: Wholesale/Retail Sales
Category: Sales Automation
Description: The Sales and Rebate Tracking System provides sales reports and tracking by sales rep. and customer. It maintains a complete rebate or promotion calculation system, for calculating and awarding prizes or rebates at defined sales quotas (either for the customer or sales rep).
Sales information is retrieved from any standard data file, typically generated by the company's accounting system.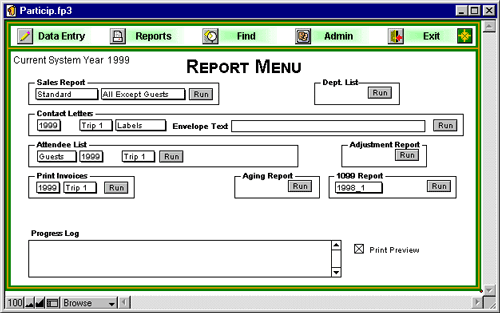 Sales reports, contact letters, prize awards, and IRS 1099 compliance are provided.
---
Client Project: Sign Contractor Job Tracking System
Industry: Construction
Category: Construction
Description: This is a complete signage manufacturing, inventory, installation, and service tracking system. It was originally created for Ruggles Sign Co., a national signage manufacturer. Ruggles manufactures signage in their Versailles, Kentucky shop and then employs subcontractors to install and service their signs. This software is used on a network by ten administrative staff and monitors all of their manufacturing and customer service activity.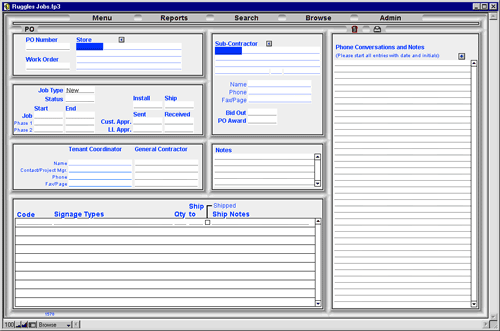 The system is designed for a minimum screen size of 1024 x 768. The sample picture may not be clearly visible as a result.